Testimonials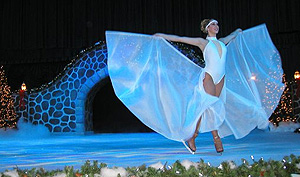 My name is Danielle Logano and I have been Figure Skating for 18 years. For the past 5 years I have been performing in Professional Ice Shows all over the U.S. In November of 2010, I tore my labrum which made me have to receive hip surgery the following year. After I went through 10 sessions of post surgery Physical Therapy at Extreme Ice Center, I was then able to start a higher level of Therapy and worked with Jill Hinson doing STOTT PILATES®. Pilates has improved my flexibility, hip movement, and overall strength. I would have never thought of doing Pilates for therapy, but it has been a blessing to have and Jill worked so well with my level of exercise during this injury. I look forward to continue working with Jill and improving my hip strength. Pilates is a plus for Figure Skaters and all types of Dancers!
- Danielle Logano, Professional Figure Skater
---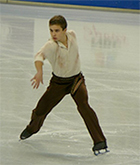 I worked with Jill Hinson twice per week as I prepared for the 2012 United States Figure Skating Championships. Pilates helped me to gain core strength, flexibility and stability!
- Alex Aiken, 2011 U.S. Junior Bronze Medalist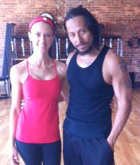 I'm forever in debt to Jill Hinson for allowing me to experience Pilates for the very 1st time in my life! I was in Charlotte, NC, filming Banshee, and enjoyed my workouts at Core Studio.
- Sam Medina, Actor, Los Angeles, CA
---
My golf game has benefited since I began pilates with Jill Hinson. As a senior golfer who recently had shoulder replacement I needed to improve my strength and range of motion. Pilates strengthens the main part of the body that is so important in the golf swing and that is the core. It also lengthens the muscles which should keep length and width in my golf swing. Jill explains the way the movements are to be performed, and like the golf swing it gives the mind a method to learn and the quietness of the mind to concentrate on the movement. Many professional golfers incorporate pilates into their workout routines, but even if you're not a golfer the lessons learned in pilates will greatly improve your body and lead to a better quality of life as you age.
- Griggy Porter, Former Chicago Cubs, Third Base and Shortstop Player AAA
---
I have had chronic pain in my spinal region for two years. Thanks to pilates with Jill Hinson, in less than three months my spinal muscles and abdominal muscles are stronger resulting in almost complete elimination of pain along my spine. Also, my spine is more flexible and the connecting muscles are stronger. Jill takes the time to explain not only the purpose of each pilates technique, she takes considerable time explaining and modeling the muscle groups involved and the resulting benefits of applying the proper technique. Following her instructions, I have become extremely conscious of how I sit, walk, breathe, and exercise. I am aware of possessing now a much stronger core that has given me better posture, balance, coordination and less muscle pain. I now cannot live without this course! There have been numerous times I have been able to prevent injury due to the stronger core and balance my body has acquired through the pilates sessions with Jill. I would recommend to anyone, regardless of age or physical limitations, who desire a sturdier core, longer and stronger muscles, and better posture through proper spinal alignment, enroll in this life-changing exercise program.
- Renee Shackleford
---
I heard about Pilates years ago back in Tampa. An older couple at church did it and they stayed very agile, more so than me.I thought I will have to try that but I did not pursue that thought til I saw a listing at Extreme Ice where my husband and I had a membership for the gym there. I tried a class and found I really liked it and the instructor, Jill Hinson, was very good and made the class very enjoyable. I became able to do things I had not been able to do--all without hurting or straining old lower back posture problems.
I have found it to be a very good form of exercise that develops the flexibility that I need. Other forms of exercise I have tried through the years are now either too strenuous or just not as satisfying. There is an old back injury to deal with that I monthly go to a chiropractor for an adjustment. He tells me he gets a better adjustment when I do Pilates. I do not have the soreness I get from other workouts. My balance and posture have improved. I am more able to do yard work without feeling terrible the next day. What I learn to do in Pilates carries over to my everyday life. That is important, for at 69, I can even keep up better with my 6 yr old running grandson!!
- Sharon Norris
---
I was a fan of TRX from the moment that I attended my first work-out session with Heather. It provides strength training, core stability, with small bursts of cardio. Each of my sessions lasted 30 minutes and I felt like it was a great workout detailed to my specific needs or body areas that I wanted to tone. Since I was using my own body weight as resistance I was in control of the intensity of the workout. Each week Heather would provide a variety of exercises so that i continued to get an overall body workout, but a different routine. I was able to build strength, muscle, and improve my balance. Since the session only lasted 30 minutes I was able to fit in a quick work-out during a busy day, yet know that those 30 minutes were well spent on my health and physical well being. The TRX as well as yoga have become part of my weekly sessions for working out at the studio. It has been a wonderful and personable experience.
- Lisa Gargaro
---
I've had the pleasure of practicing yoga with the Core Studio staff. I've had teachers in the past (not at Core) that just called the cues and basically used the class as their own practice. They make sure everyone is taken care of in the class and that they are practicing to their own abilities. They ask us to push ourselves, but not to the point of discomfort.
- Stephanie Nelson
---
I love Core Studio Pilates & Yoga, and I especially love my instructor, Heather Moses! I look forward every week to my equipment session with Heather. She pushes me each week to try my best so that I can see results. I leave feeling as though I have had a total body workout which is the kind of workout that I am aiming for. In particular, I have looked for results in my core and I was able to start seeing them after a few session. I have now been taking classes for about a year and I see results not only in my mid-section, but also in my posture and strength. I recommend CSPY to anyone looking for a great workout and more intimate setting and if your looking for a great teacher, you should definitely give one of Heather's classes a try!
- Laura Creech
---
I was in my first downward dog of the day on Monday in Nan's class and looked down at my feet to check alignment. I noticed that both my heels were on the ground. This may not sound like a big deal, but for me it was. For the first time in just over 2 years, I had both my heels on the mat. Now, I have done Yoga for over 8 years and Pilates for 10, but for the last 2, I have been recovering from an Achilles injury and surgery and my right foot was not ready to be flat.
I came to Core just over one year ago. At that time, I was about 5 months post-surgery. I had not had any physical therapy and was anxious to get back to exercising. When I came to Core, I jumped right in taking 2 group equipment classes a week and a couple of mat classes a week. Jill and Heather were so careful with me to get me moving again. They were both so thoughtful in exercises that would gain me strength and mobility in my foot again. When I did my first mat class with Jill, I remember not being able to raise up on my toes at the end of class.
Now, just over a year later, I am stronger, more flexible, more mobile and definitely more confident. I have lost just under 20 pounds and over 20 inches! I love being a part of the Core family and know that without the great investment Jill and Heather made into me, I would not be where I am today.
I want to give a shout out to Nan and her Monday morning yoga class. I have been taking yoga classes for about 8 years now and with Nan for at least the last 4 and I feel I owe a lot of my love of the practice to Nan. No matter what I am feeling when I arrive in downtown Monroe, I know that when I walk into Nan's class, I am going to smile. Nan has a way of making everyone in her class feel valued for being there. She is always encouraging and challenges me to stretch my practice just a little more and to give every pose my fullest effort. She is open and real with her life lessons that she starts class with. I can see the time and effort she puts in to preparing for our class. While she may forget a left and right now and then, or just change her pose plan mid-stream, she has taught us all to go with the flow and be open to whatever we receive. I cannot leave a class without feeling as if my inner beauty is just a little brighter and that is because of Nan.
- Linda Gaura
---
Working out with Laura during my pregnancy with my second child was such an awesome experience. Laura created all of my workouts to meet the needs of my pregnancy. She did not make me feel like I couldn't work out due to pregnancy. Instead, she showed me all the things I could do. Working out with Laura at Core Studio until my 38th week of pregnancy kept me motivated and inspired me to get right back in the studio after the birth of Jaxon. Thank you so much Core Studio Pilates and Laura Pittman!
- Sally McAteer
---
I was so happy when I found Core Studio Pilates, I was looking for a Pilates studio close to my house and I was thrilled when I found Core right here in Monroe. The studio is great and the teachers are genuinely interested in you and your goals. I was on the beginning of my pregnancy, and Laura, my instructor adjusted several exercises for my own condition. I can't say enough good things about Laura; she is kind, loving and funny. She walks me through every exercise and tells me how to adjust my feet, shoulders, hands. She makes sure that I am doing everything correctly and that I get the most benefit of my workout. I love it!!!
- Gabriela Kanode
---
Stretching your limits and your body is what a Pilate's session with Laura is all about. The last year at Core Studio Pilates & Yoga has been a great learning experience in personal fitness for me as well as bringing about a noticeable improvement in my posture and muscle tone. Laura has managed to change the groaning at the words -time for hundreds- to the satisfied smile of how I WILL be able to fit into that "little black dress". Laura makes each session fun and still gives the personal attention to proper technique that allows each student to achieve the best results possible.
Thanks Laura for sharing your gift.
- Mary Milam
---
SCIATICA and YOGA -- should they be yoked together? Because Leslie Snow was my yoga instructor, I can answer that question with a resounding YES! Only a few years ago, as a beginner, I entered a yoga class taught by Leslie. Not because of yoga, but only months into the class, sciatica became an issue for me. My physician suggested a routine of exercises. Much to my delight, Leslie already had incorporated these exercises into our practice.
Leslie carefully explained and skillfully showed me how to move my body to do it no harm. Knowledgeably, she taught additional poses that help to relieve sciatica. Likewise, Leslie gave specific attention to the needs of each student. Because of the strong foundation laid by Leslie, I still practice yoga. Although I am no longer a student of hers, I continue to benefit from the lessons she taught. Also, I continue to enjoy the sense of community that Leslie created among her WOO-HOO Yoga Ladies of Wadesboro, NC. To be taught by Leslie is to experience progress and peace.
- Rachel Johnson
---
Core Studio Pilates and Yoga is truly one of the best studios for men and women in the Charlotte metropolitan area. It is a quiet gracious space in Monroe. Easy parking and access as well. Jill Hinson , the owner, is thoughtful, knowledgeable and always expanding her expertise. She is in great shape herself! Jennie Stone , the registered physical therapist and dancer, who is the clinical Pilates teacher at Core Pilates is a charm and a talent! Her rehabilitative Pilates exercises to both prevent injury and care for existing injuries are excellent . A gem of a studio tucked into Main St of Monroe where great healthy local food can be found when your exercise session works up an appetite! As a health and fitness professional myself for 35 years it is with confidence that I can say one can trust body and mind improvement with Core Studio.
- anonymous
---
I really wanted something for my wife Karen and I to do together to help our body and mind. I had heard of yoga, but knew virtually nothing about it. We love Tila's class, and we truly enjoy the benefits we get from Tila's instruction. It is something that we look forward to every week! Thank you Core and Thank you Tila!
- Kevin Holder
---
When my Occupational Therapist Chandra at CMC told me about a place, in downtown Monroe, that had a program that helped women with their recovery process after breast cancer surgery I thought....That's great, it sounds interesting. She explained how this was a Pilates class that would help me with my flexibility and range of movement. I thought, "Whoa, wait help me? I can't do Pilates!" If I've learned one thing through this cancer journey it's you can't have faith and worry. So I decided to go with the faith and give it a try. After setting some dates and meeting with Sarah I went to see what I had gotten myself into. I must admit I was a bit worried when I saw all the equipment but Sarah gave me the faith that I could do this as she talked me through everything (even if I did breathe in instead of out and out instead of in)! After I finished all of my classes I thought Pilates was great and interesting! I now have faith that I can do what I put my mind to! Thanks to ALL of the ladies at Core Studio Pilates and Yoga!
- Rhonda Phillips
---
July 2013, I walked into Sommer Belk's fitness class for the first time, overweight, post-surgery, out of shape and in desperate need of a change. It was a little intimidating and I was concerned about being able to keep up. Even though there were several things I wasn't able to do, Sommer demonstrated options to modify the exercises until I became stronger. She provided a good balance of challenge, accountability and encouragement and I could tell a huge difference within just a few short weeks. It was a lot of hard work but Sommer made the classes fun. Of course, there were other positive lifestyle changes along with exercise but so far I've lost 75lbs and have been able to complete two sprint triathlons.! At first glance P90X looks really intense but I'm living proof that anyone of any fitness level can participate, benefit and become stronger even through recovery from shoulder surgery!
- Betsy Ross
---
I have been a client at Core Studio for over a year. It has changed my life...in so many ways. I have struggled with being overweight my entire life. The programs at Core have allowed be to realize the strength that has always been inside of me. The other patrons of Core are fabulous and supportive. Most of all, the instructors, particularly Allison Hinson, have given me the structure and push that I needed to become stronger and more fit than I have been in a long time. Allison's equipment classes are the highlight of my week. She is challenging, supportive...and has become my fitness champion. The team at Core is world class!
-Sheri Burdette
---
I had always been a runner but as I grew older I began to notice issues with my back and knees. My oldest daughter, Maggie, was very involved in yoga and she continually lectured me on the importance of taking care of my body with activities like yoga. She gave me a gift certificate for a yoga class at Core and the rest is history. I am now a believer and my daughter teaches at Core Studio! Yoga has improved my flexibility and has helped relieve a lot of my aches and pains! It mades me feel better! I would recommend it to anyone, no matter how old you are!
- Pamela Hinson