Studio Etiquette
Arriving at Core Studio Pilates
All new clients need to bring the Core Studio Pilates Waiver form before their first session. You can print the pdf form here.
When you arrive, you will see a large reception desk as you enter the front doors. You do not need to check in there. You will come up directly to the studio using the large staircase just to the left of the reception desk. At the top of the stairs, go through the double doors and our studio area will be just down the hall. Doors may be shut when you arrive to minimize distractions so please sign in and wait until the doors open to come in. You are welcome to have a seat on the bench just outside of our doors.
We ask that you be respectful of other businesses inside of Extreme Ice Center. Please keep voice levels down when inside the studio and enjoy time with others inside the rink. Please be on time to class! There is a five minute window of time between sessions to allow people to come and go and briefly talk with our instructors. Please arrive 10-15 minutes early for your first session to get settled and to complete our New Client Forms. These can also be downloaded and printed here.
Once you enter the studio please remove your shoes, put personal belongings in a cubby, and set up your mat or other props as directed by your instructor. There are a few extra mats to borrow if necessary, but you will be expected to bring your own mat. The studio will provide all other materials for your session. Bring a water bottle to keep you hydrated, and we will have distilled water at the studio for your use.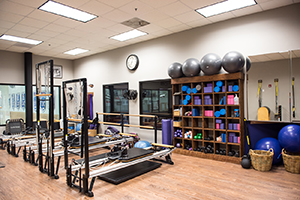 Scheduling Your Sessions
We have a 24-hour cancellation policy in effect for all private sessions, semi-private sessions and equipment classes. If you are unable to attend your scheduled session or class, please consider giving it to a friend or family member or you will be charged for that session. All sessions are non-refundable, but they are transferrable.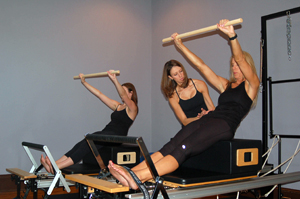 Studio Tips
Turn off or silence cell phones prior to class as a courtesy to others.
Disinfectant and towels are supplied to clean the mats and equipment. Always remember to clean your mat and props after your session. Thank you for helping us keep our studio clean for all of our clients!
Bring a towel to your session if you tend to perspire when exercising.
Please do not wear strong perfumes or scented lotions to your sessions.
Be courteous to others with the use of tobacco prior to class. The studio is small, and we have to be mindful of allergies.
We recommend that you wear comfortable tops and bottoms. Avoid overly baggy clothes which hinder our ability to assist you with proper alignment.